General Information
A Microsoft 365 site, also known as a SharePoint site, is a web-based collaboration and document management platform provided by Microsoft. It is part of the Microsoft 365 suite of productivity tools, which includes applications such as Word, Excel, PowerPoint, Outlook, and more.
SharePoint sites are designed to help teams and organizations store, organize, and share information, documents, and resources. They provide a central location where users can collaborate on projects, co-create documents, manage workflows, and maintain version control.
Microsoft 365 sites offer several features and functionality, including document libraries for storing files, lists for tracking data, calendars for scheduling events, discussion boards for communication, and customizable web parts for displaying relevant information.
These websites can be accessed through web browsers, mobile devices, and desktop applications, giving users the flexibility to access their content and collaborate regardless of their location.
Microsoft 365 sites also provide security features to protect sensitive information and control access to documents and resources. Administrators can define permissions and user roles to ensure that only authorized people can view, edit, or share specific content.
Overall, Microsoft 365 sites facilitate collaboration, communication, and information management within organizations, enabling teams to collaborate efficiently and effectively.
With the widely used Microsoft 365 Apps, a Microsoft 365 SharePoint document library is available per tenant (a licensee's environment with Microsoft 365 Apps), which is based on the storage system provided by Microsoft in such an environment.
This environment is divided into different document libraries, such as the Microsoft 365 Groups and Teams that are set up, or individual sites. With each of the functionalities mentioned, separate document libraries are made available on the SharePoint environment of the Microsoft 365 tenant, they can be regarded as their own storage systems, since different user authorizations can also be defined for each document library.
In this way, a user with a Microsoft 365 license can have access to several document libraries in addition to using the unlocked apps. As an example, a company can be mentioned here, for example, for which, for example, a Microsoft 365 team has been set up per department. Each team has its own document library.
FilesApp makes it easy to access the various document libraries without having to switch between the document libraries in several steps. In addition, FilesApp allows you to quickly find files via all document libraries set up in the FilesApp, and much more.
In FilesApp, several document libraries and also several different Microsoft 365 tenants, again with their document libraries, can be set up.
Preconditions
Active and existing Microsoft 365 account of the user.
Active and existing FilesApp Microsoft 365 SharePoint Connector license – see https://filesapp.com/pricing/
The user must be assigned a license by the administrator of the FilesApp Microsoft 365 SharePoint Connector license.
Setup
Setting up a FilesApp Microsoft 365 SharePoint Connection.
Setting up the first document library of the Connection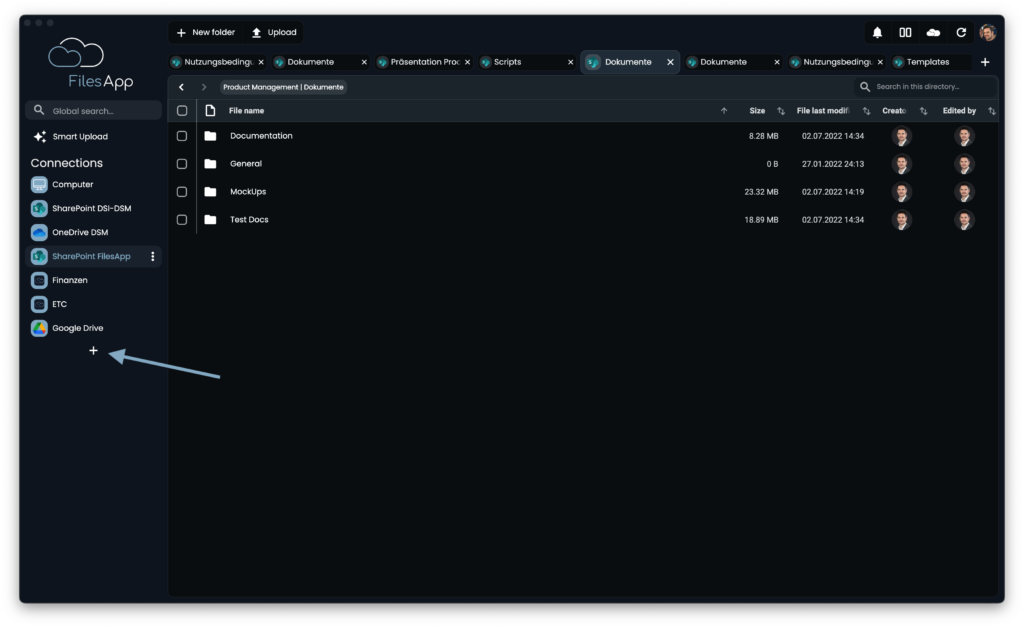 In FilesApp, set up a new connection to a Microsoft 365 SharePoint tenant via the plus sign in the Connections.
Select Microsoft SharePoint connection.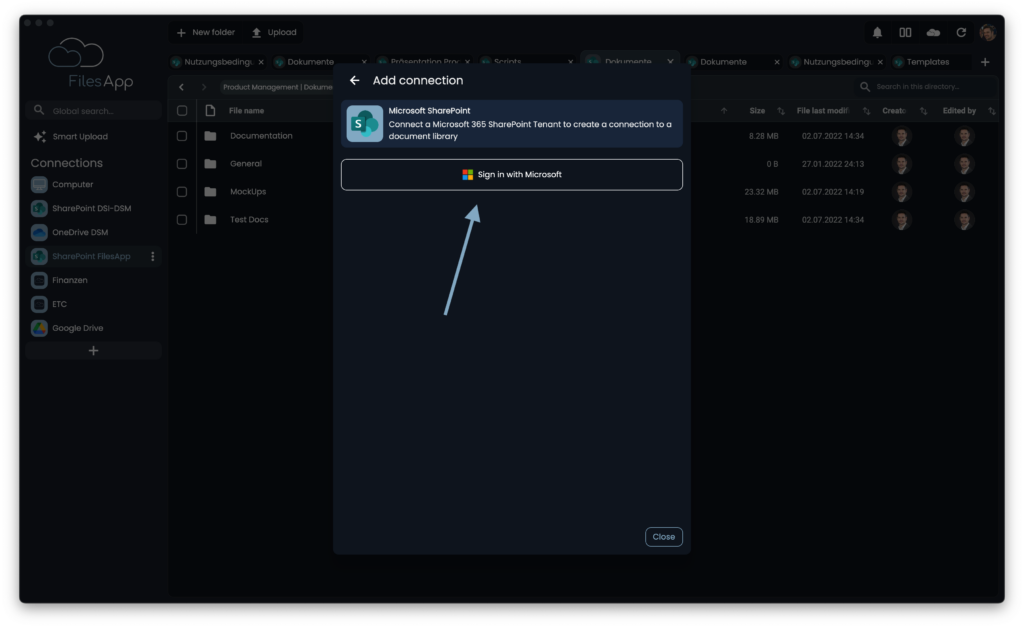 Select "Sign in with Microsoft".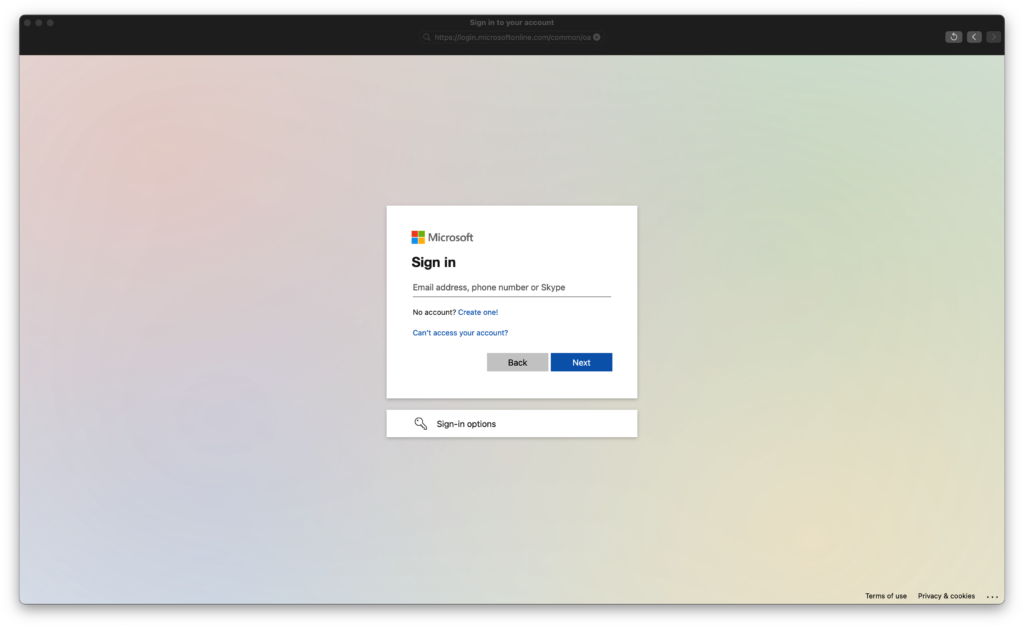 Enter and authenticate the login data with the email address of the user's Microsoft 365 account for the relevant Microsoft 365 tenant.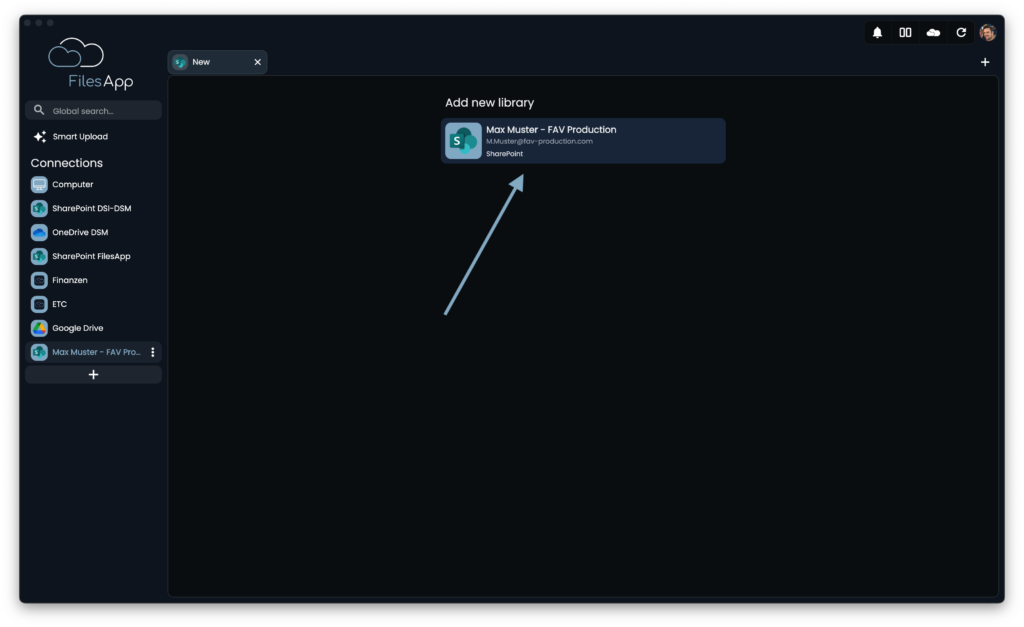 After successful authentication, the document library of the Microsoft 365 tenant is displayed in FilesApp. Select it.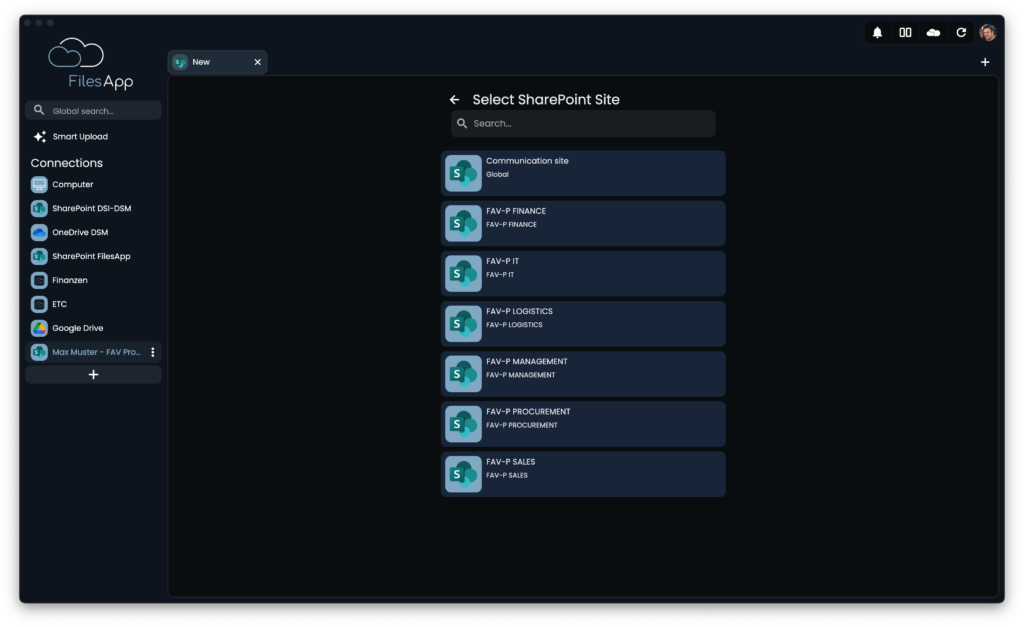 The "sites" available to this user due to user rights in the Microsoft 365 environment are listed. Select the desired "site" here.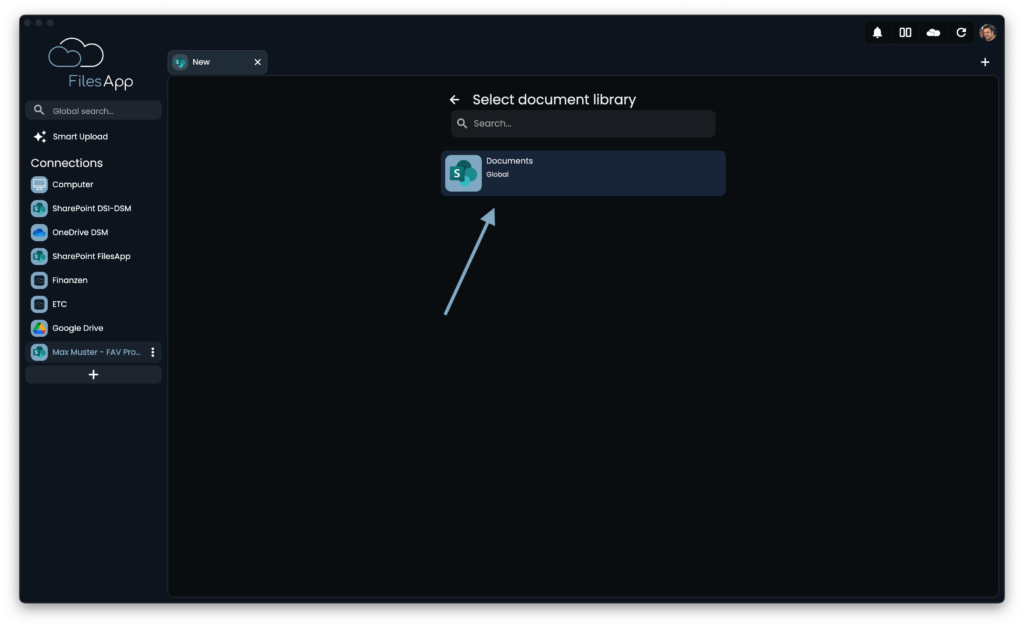 In the next step, the document library of the selected "site" will be displayed. Select it.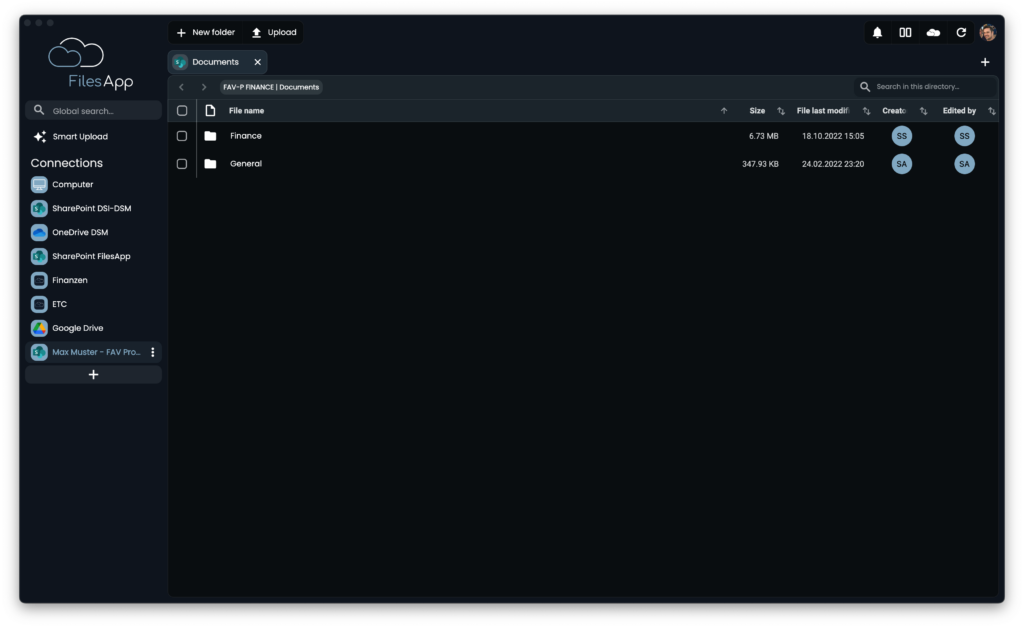 The directory structure of the selected document library is then available in FilesApp. The files are indexed and are also available via the search after a short time.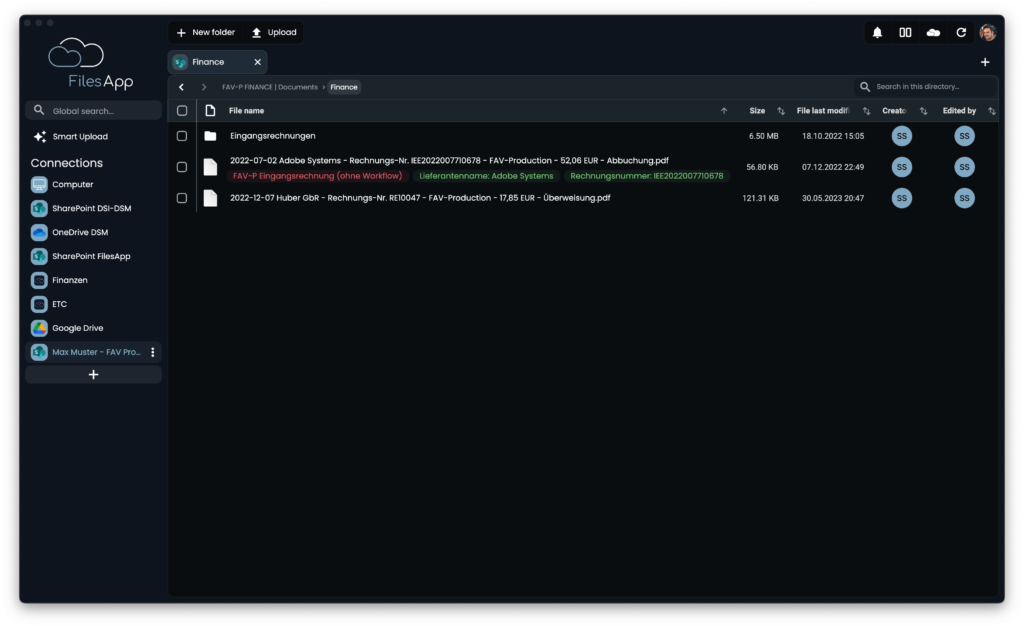 Setting up additional document libraries of the Connection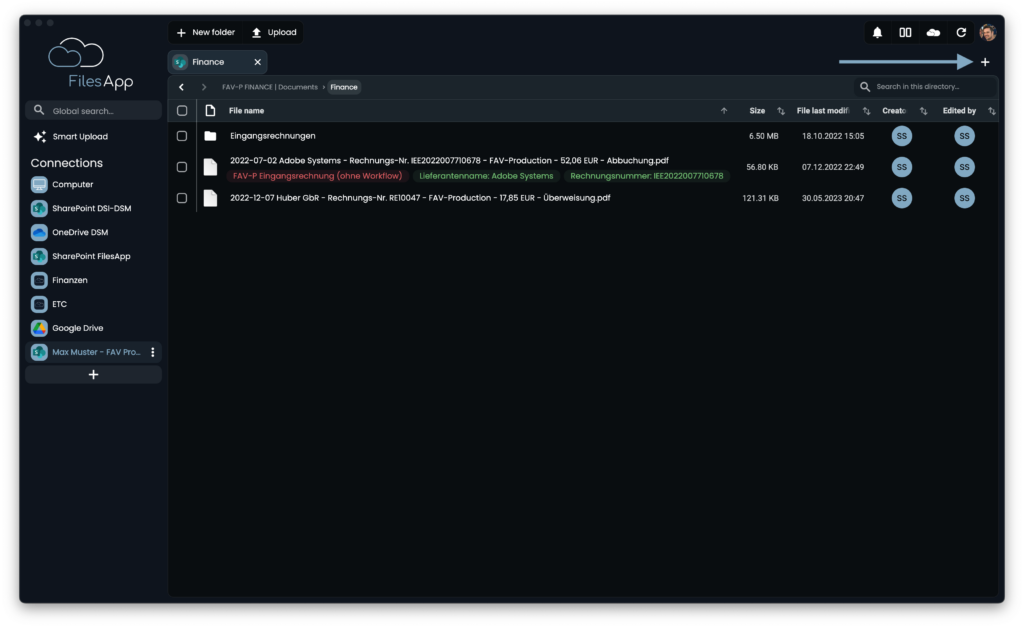 In FilesApp, select the plus sign in the upper right corner of the connection.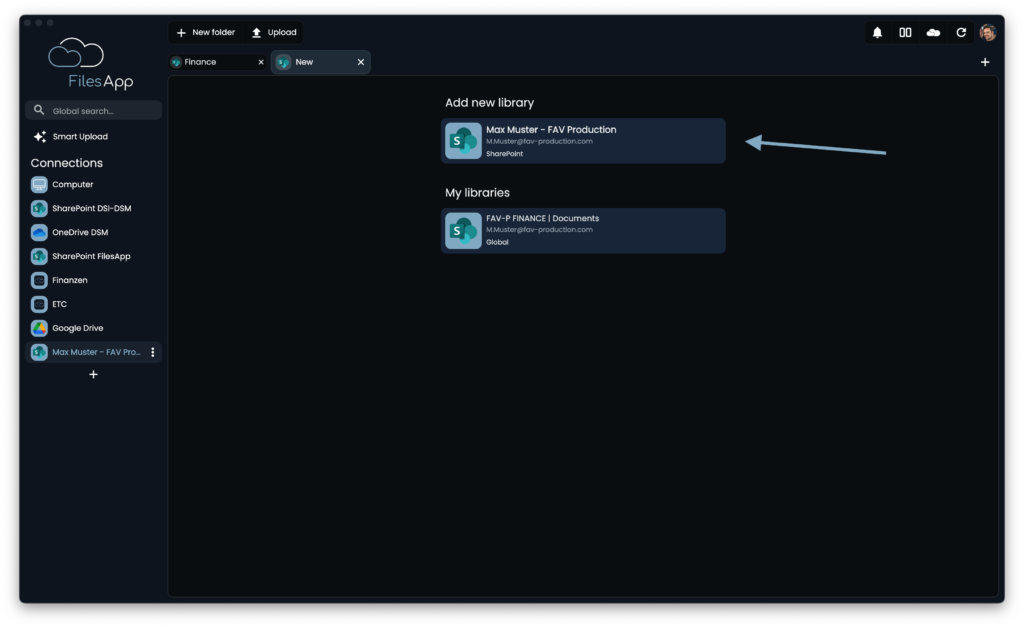 Select "Add New Library".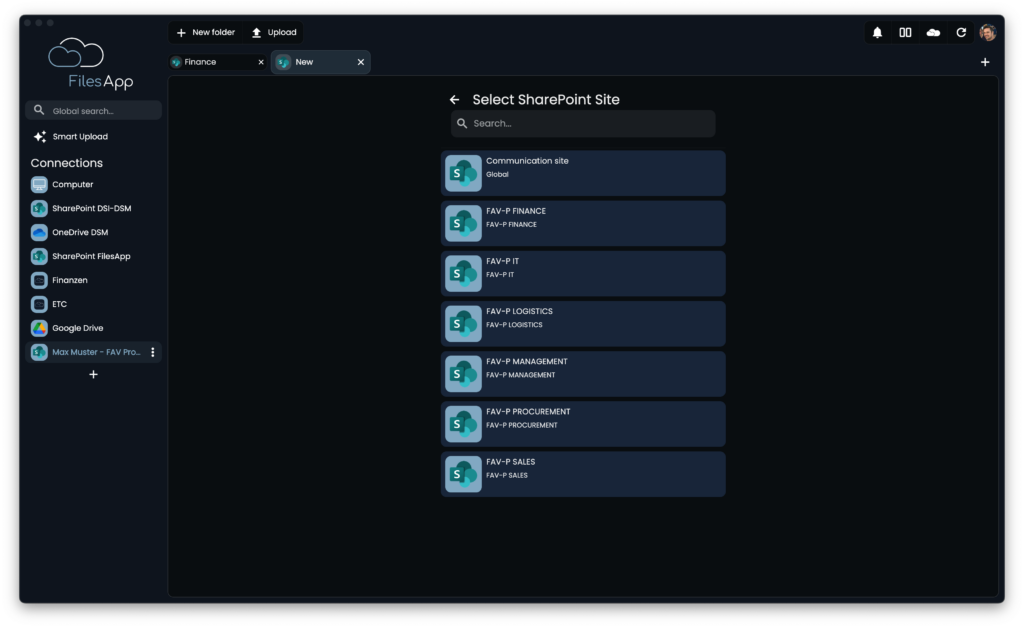 Select the desired "site" here.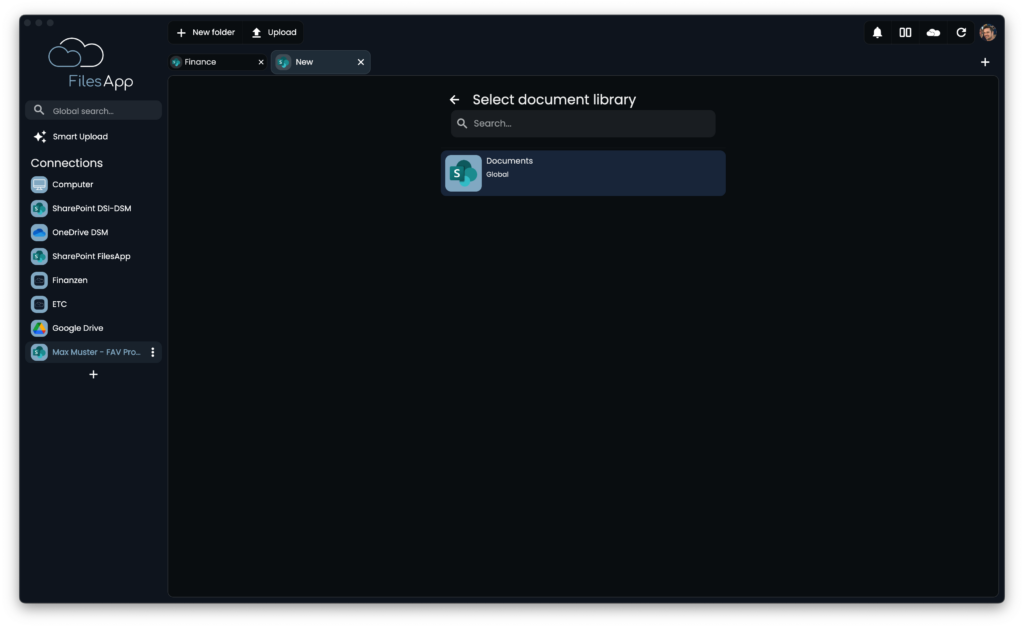 The document library is displayed.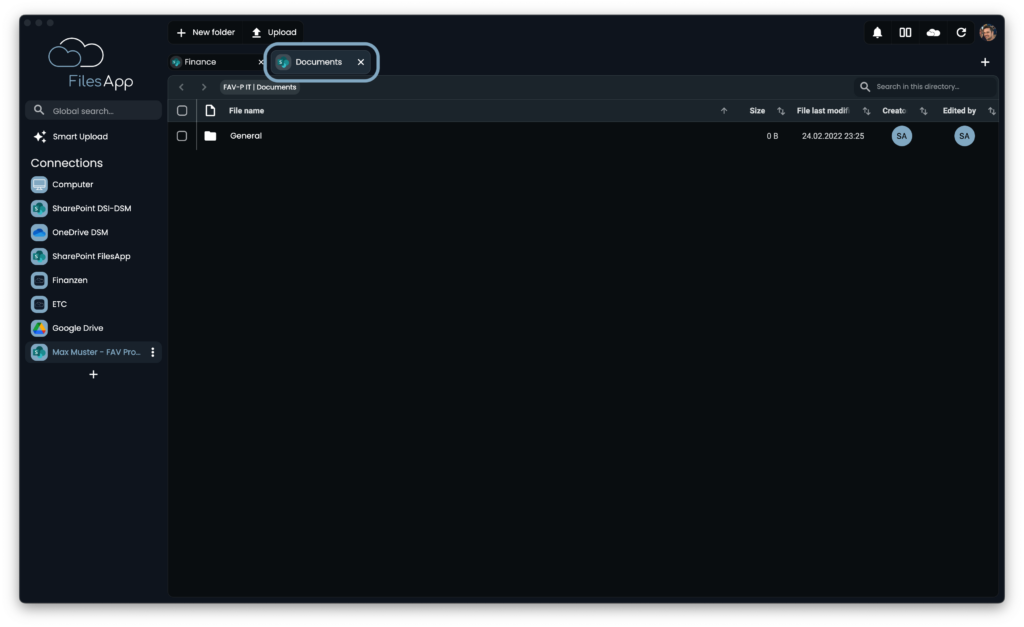 Select it and it will then be available as a new tab for this connection in FilesApp.
Repeat this process for all desired document libraries.
Administration and Permissions
For the user and authorization management of the Microsoft 365 SharePoint Connection, that of the integrated Microsoft 365 SharePoint environment applies throughout.
Users can only access document libraries, directories and files for which they have been granted rights by the Microsoft 365 SharePoint environment. Additional administration in FilesApp is not required or not possible.
The permissions apply to the entire FilesApp range of functions. If, for example, the external sharing of documents is not approved by the Microsoft 365 SharePoint Administration, this is also not possible via the FilesApp.
Likewise, a user cannot search for and find files in document libraries if he/she does not have access authorization from the Microsoft 365 SharePoint administration.
Owners of Microsoft 365 SharePoint document libraries, such as those created by Microsoft 365 Teams, can create and manage document types and tags in FilesApp. Users of Microsoft 365 SharePoint document libraries can only apply them.
Login
Users can sign in with their Microsoft 365 account.
FilesApp Features
With this type of connection, there are no restrictions on the functionality of FilesApp.